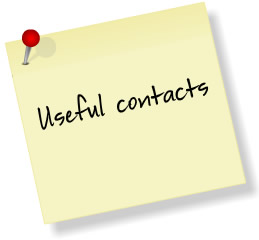 PROMOTION WEBSITES
Mailout Websites

Fanbridge - Free but you can only send up to 400 emails a month, perfect for just starting out.
Mailchimp - Best mailout service in Scuba's opinion. Free again so you can send out 12,000 emails to upto 2000 Email addresses.
Music Sharing

Soundcloud - Easily upload files and share quickly, Free but you can only upload files with upto a maximum of 2 hours. That seems to work for most people.
Bandcamp - Best website for allowing to share your music projects and merch, and give away free music if you so wish.
Vibedeck - Pretty much the same as Bandcamp, but allows you to upload mp3's.
CD Duplication

Rover Music - CD Duplication company based in Scotland
Easy Replication - CD Duplication company based in Scotland
Merchandising

SuperLogo - T -Shirt printing based in Edinburgh
Dizzyjam - Sell your Merch online minus the hassle.
Music Distribution

Tunecore - Easily get your music on Worldwide retailers such as Itunes, Amazon and Spotify. I'm sure there are other but this is the cheapest one i've found, also features a whole host of extra goodies for sharing your music worldwide.
Zimbalam - Much the same as Tunecore, but an other option none the less.
MUSIC CONTACTS IN SCOTLAND
Labels

Sub-Friction - Glasgow
MCF Records - Edinburgh
Traffic Cone Records

Sons Of Scotland - Edinburgh

Bloo Coo Records - Fife
Belive Records - Glasgow
Mixkings - Glasgow
Powercut Productions - Glasgow
Radio DJ'S

Subcity - A list here of all the DJ's that play Hip Hop music on Subcity
Radio Magnetic - A list of shows that play Hip Hop on Radio Magnetic
Recording Spaces

Pirate Robot Productions (Toni Smoke) - Hip hop beat production. Recording and mixing services. Remix services. Mastering work audio.

99% Studios - Home based studio based in Kirkcaldy, Fife - Prices available on request
Crown Sound - Home based recording in Glasgow, with the capability of mobile services too. Prices available on request.
Bloo Coo Records - Recording studio in Fife, Prices on the page.
Speech Syndicate - Free recording space if you ask nicely. Livingston
Graphic Designers
DillzGFX - Graphic Designer from Glasgow
Event Organizers

Michael Ryan - Runs Complex events.
Craig Hain - Crown Sound Organizer
James Jeffrey - Knock Out Freestyle Battles
Chris Mcdougall - Urbanscot
Ryan Mcgeady - Subfriction
Ter Ror - Club night based in Edinburgh
Gareth Lynch - Courtyard Battles
Mark McG - Traffic Cone Records
Simon Xplicit & Nasty P - I Love Hip Hop Edinburgh
Ralph Peterson - Fusion Promotions/PTV Hip Hop Events
Jamal Papajgun - Sugarhill Edinburgh
PA Hire

Danalgio Productions - PA Hire in Fife
Red Dog Music - Music Store and PA Hire
Music Stores

Underground Solu'shn - Music Store based in Edinburgh
Avalanche Records - Record Store in Glasgow
Hogs Head Music - Independent Music Store in Edinburgh
One Up Records - Independent Store in Aberdeen
LP Records Glasgow - Record Store in Glasgow.
Rub-A-Dub Records - Music Store based in Glasgow
Vinyl Villains - Independent Store in Edinburgh
VoxBox Music - Independent Store in Edinburgh
Blogs

Synth Glasgow - Blog that mainly focused on Bass and Club music but sometimes caters to hip hop
Scottish Hip Hop (SOS) - Emcee Drew 'Werd' Devine's personal hip hop blog
Scottish Fiction - Scottish music blog
ravechild - Glasgow-based music blog
Almost Predictable, Almost - Electronic music blog, but been known to cover hip hop.
Tenement TV
- Glasgow-based music website
The Pop Cop
- Independent Music Blog
Flares N Seagulls - Alternative Music Magazine based in Aberdeen
Is This Music? - Long running Indie Blog
Podcart - Arts and Music Blog
Community Groups

Volition - Community group for artists looking to share their talent with other like minded individuals.
If you would like to be included in the contact list please use the form below